Cruelty-Free Beauty with Emmily Banks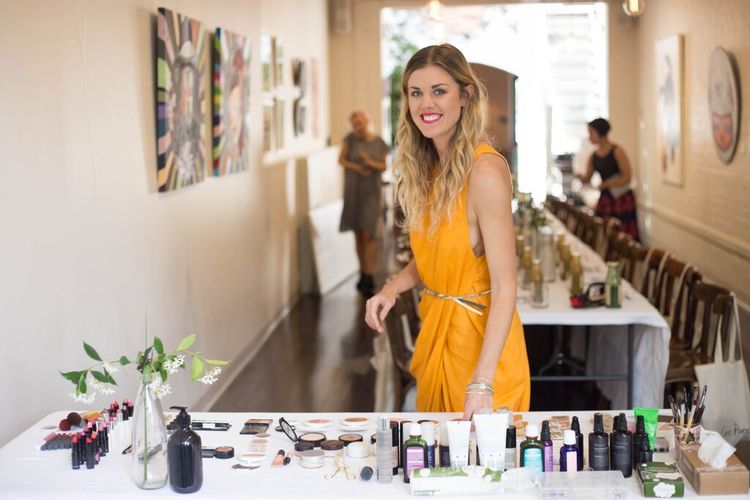 Today I chatted with Emmily Banks who is a natural makeup-artist, eco-beauty advocate and founder of Depths of Beauty  and one smiling, awesome chick! Emmily is extremely passionate about sharing the importance of non-toxic beauty products for the health of our planet and its people, and is the perfect person to do so as she truly radiates beauty with her natural vibe and brilliant attitude. Much of the cosmetics we use today are full of nasties that can make their way into our bloodstream, especially after use day after day over a period of years and so Emmily recommends transformative products though Depths of Beauty, helping others discover non-harmful ways to enhance their inner glow.  She responsibly shares vital information and life-changing facts so people can make educated decisions about what they allow their skin to absorb, and which brands to support. From lotions and powders to brushes and packaging, Emmily has invested in extensive research to find the ultimate organic, nourishing, eco friendly, sustainable and cruelty free cosmetics and personal care products that actually work. She believes that by choosing safe and sustainable products with organic ingredients, we can encourage mainstream brands to change their formulas to be less harmful and toxic. Emmily believes that the healthiest beauty around is to be your organic self and use minimal products.  She does not wish to encourage consumerism, she does however believe that we deserve to treat ourselves to natural beauty products, especially when using and supporting clean beauty brands. All the brands she works with are free from animal testing and many of them are vegan. WOHOO!
TOP 5 NATURAL PRODUCTS
1. Rosewater
Organic, pure rosewater helps to sooth and cool sensitive, irritated skin. It hydrates, cleans and revitalise all skin types, from oily to dry to mature skin. Rosewater is filled with antioxidants and contains a natural antiseptic, while also having anti-inflammatory and antibacterial properties. Use as a toner and spritz on after a shower, before applying makeup or throughout the day to refresh your skin. Its also super affordable (bonus). I'm LOVING Mukti Organics certified organic rosewater spray - though any will do the job well.. as long as its organic, it will be good!
2. Oils
Organic, cold pressed, oils are your best friend. Coconut, Jojoba, Sweet Almond, Rosehip and Argan Oil are some of my favourites. They are full of essential fatty acids, vitamins and antioxidants that help to heal, nourish, moisturise and protect the skin. Oils can be used as face and body moisturiser, cleanser and makeup remover. Note well however - everyone's skin is different, so you may need to trial a few oils before you find the perfect option for your skin. I find Jojoba oil to be one of the best all-rounders for everyone. I also LOVE oil blends for the maximum antioxidant and vitamin hit. Favourites include Vanessa Megans Revitalising Rosehip, Mukti Organics Antioxidant Facial Oil and The Beauty Chefs Dream Repair serum.
3. Tinted Lip balms
Its pretty obvious that we EAT our lipstick and lipbalms, so its super important to use nourishing, edible and natural balm on our lips! My all time favourites are "Hurraw" .. they are all natural and organic and some have a beautiful light red tint.. oh AND they are really affordable too! I also love Mukti Organics lipbalm. As for Lippies... Nudus is the one.
4. Foundations
Most mainstream foundations use silicone, amongst many other nasty preservatives, which is known the block pores and prevent the skin from breathing (breakouts anyone?). Some of my favourite vegan foundations for natural, lightweight coverage include Inika Liquid Foundation and 100% Pure Cosmetics concealer or foundation - depends on skin tone. Full foundation review on my page - via subscribing. :)
5. Mascara
If your eyes sting from mainstream mascara, you might want to make the switch to an all-natural product. There are so many awesome, effective, natural mascaras available to us now. Some of my favourite natural vegan mascaras include Ere Perez and Lily Lolo.
WORST COMMON OFFENDERS
Unfortunately there are literally tens of thousands of unhealthy, toxic skincare and makeup brands on the market. So opposed to listing them all - my number one tip is to always look for CERTIFIED Organic skincare and makeup - this basically ensures that the product will not contain the nasties as the certification boards do the ground work for you! Also find stores to shop that you trust are stocking only the best natural and organic products such as Nourished Life and Beautiful Because. Three common tricksters are:
1. Lucas Pawpaw
This very well known product is based on petroleum, which is a byproduct of the oil industry. Petroleum creates a physical barrier against the skin, meaning moisture can't get in and toxins can't get out! The ingredient is also linked to organ and skin toxicity via testing of the Environmental Working Group. 
2. Cetaphil/QV products
Between these products that are labelled "great for sensitive skin" - they contain sodium lauryl sulphate, patrolatum, fragrance and over 8 different parabens - all linked to skin irritation, hormonal imbalance, endocrine disruption, cancer and neurotoxicity.
3. Conventional Sunscreen
Common sunscreen ingredients include parabens, octinoxate, oxybenzone, cinnamate - all linked to skin irritation, endocrine disruption and cancer. Some also contain a form of vitamin A called retinyl palmitate that has been linked to the development of cancer. Sunscreen manufacturers use vitamin A for its antioxidant, anti-aging properties, but this compound also has photocarcinogenic properties, meaning it can cause cancer-related tumors and lesions when exposed to light!
Emmily has her favourite alternatives to the above here. And she conducts stunning workshops where you can find out more about how to beautify yourself, cruelty and toxin free. Find her updates and beautiful photos on FB and Instagram.